Mailing Address
R&D Batteries, Inc.
P.O. Box 5007
Burnsville, MN 55337
Receiving Dock
R&D Batteries, Inc.
3300 Corporate Center Drive
Burnsville, MN 55306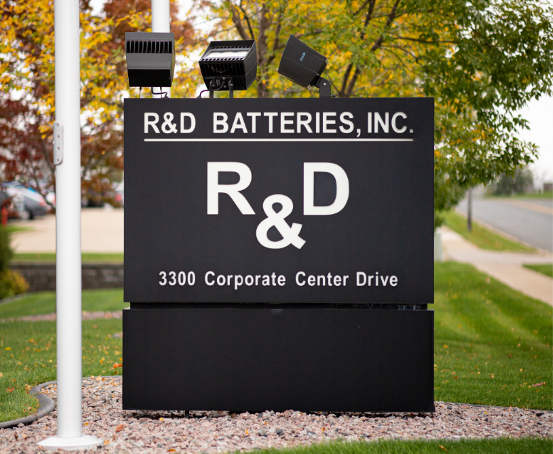 Hours of Operation: 8:00AM to 5:00PM Central Standard Time, Monday - Friday.
Prices: All orders are shipped at prices in effect at the time of shipment. Prices are subject to change without notice.
Shipping: Most orders placed before 4:00PM CST ship the same day via FedEx Ground Service. Overnight or 2nd Day Air delivery is available for most battery types via FedEx, UPS or DHL. Orders are shipped FOB point of shipment.
Warranty: 12 month warranty from the date of shipment on most rechargeable batteries. Primary batteries will perform at rated capacity at time of delivery..
Returns: An RA number must accompany all returns. Please contact us to obtain an RA number before sending back items for warranty or credit. Merchandise returned for credit should be in a resalable condition, within 30 days of purchase.
Retrofit Batteries: Items listed as "send in for retrofit" require that the old battery be returned to us to have new cells installed using your existing case and components. Please contact us for an order number to reference before sending in your batteries.
Quality Control: ISO 13485:2016 and FDA Quality System Regulation 21 CFR 820 is implemented in our CGMP, Quality Assurance Policy.
Payment Terms: Net 30 days, subject to established credit. Visa, Master Card, AMEX, checks or ACH drawn on US funds.
Government Sales: Discounted pricing is available to Government agencies.
At R&D We Stock the Medical Batteries that our Customers Need.
R&D Batteries focuses on the engineering and distribution of replacement batteries for medical equipment. We have direct relationships with premium cell manufacturers and our inventory is designed to meet the needs of hospitals and other healthcare professionals. Providing high-quality replacement batteries is our top priority.
R&D Batteries offers innovative products designed with input from technicians and managers. Our products are easily implemented and our customer service team is available to assist with any requirements. R&D Batteries sells its products globally and has been a Value Added Center for EnerSys for over 20 years.
All statements, technical information and recommendations contained herein are based on tests we believe to be reliable, but the accuracy or completeness therof is not guaranteed, and the following is made in lieu of all warranties, express or implied: Seller's and manufacturer's only obligation shall be to replace such quantity of the product proved to be defective. Neither seller nor manufacturer shall be liable for any injury, loss or damage, direct or consequential, arising out of the use or the inability to use the products. Before using, user assumes all risk and liability whatsoever in connection therewith. No statement or recommendation not contained herein shall have any force or effect unless in agreement signed by representatives of seller or manufacturer.